ICOM Partners with Canada Post on Virtual Training Solutions
Canada Post workers can explore a new Canada Post facility, learning all about its incredible features and benefits, without ever stepping foot on site.
Kevin Kernohan is all about blue-sky thinking, so when he found out the engineering leads at Canada Post wanted to see fresh ideas and innovation in education, he climbed on board that train and moved full steam ahead. The result comes in the form of a powerful training solution that leverages 360-degree environments, drone video, and workspace demonstrations to create an unparalleled experience for Canada Post employees across the organization and the entire country.
"With this particular project, innovation through business necessity is the best way to describe it," Kernohan says. "But we also looked at how we could try something different at a low risk to the organization that would have a high value if it succeeded."
Kernohan, the manager of talent and organizational development for Canada Post, came up with the idea as a way to give employees across the organization the opportunity to virtually visit a new facility in another part of the country. Using Google Street View as inspiration, Kernohan decided to create a life-like simulation of a new facility in the Greater Vancouver area that boasts a number of unique features. Employees use the tool to virtually "walk" through the facility and explore different features in their environment. They gain a first-hand perspective through 360-degree views that make it seem like an in-person plant tour.
"We are a really big organization. When a new facility opens, there is curiosity about what it is like — the equipment, innovations, processes," Kernohan says. "It gives people from across the country an opportunity to take a look inside another facility that they would never get the chance to see. They can see the innovations there without having to travel."
In addition to serving as an informal awareness piece, the training acts as an orientation for Vancouver-based employees who could transfer to the new facility, which is 35 minutes from the existing plant. Using the virtual training, employees get to take a look around the new plant before applying for a shift rotation at the facility.
"It is very difficult to visualize what work might look like at that facility if you can't see it," Kernohan says. "We can take down these invisible barriers by giving everyone in the organization a chance to share in the growth experience whether they're there or not."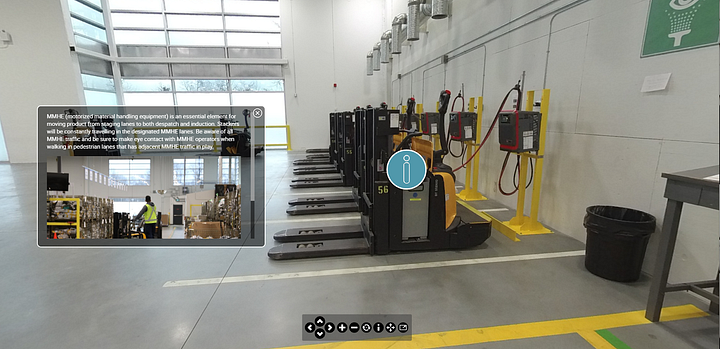 Learners can click interactive hotspots within the virtual tour to access more information about the facility, explore innovative features, and learn about the work performed at the site.
Kernohan began looking for innovation partners to help make his vision a reality. He wanted to ensure that the experience was truly immersive, had a high level of production quality, and provided a smooth user experience. The company he selected needed to share his enthusiasm for learning and willingness to take risks with new technologies.
Enter ICOM, a learning company with a focus on technology and innovation. ICOM has experience with 3D mapping, artificial intelligence, virtual reality, and using technology for both formal and informal learning.
"We were incredibly excited to partner with Canada Post on this project. We knew going in there would be a big learning curve in terms of exploring new technologies and working with a large organization, but we never shy away from a challenge," says Greg Surbey, ICOM founder and managing partner. "We're really proud of our flexibility and adaptability, especially when it comes to innovation."
Together, the companies decided to take a risk on innovation and build an entirely new platform for learning at Canada Post. The partnership was not without obstacles at first. The two teams needed to discover the best ways to leverage each other's strengths. They learned hard lessons about technical capabilities versus realities, and they discovered limitations that forced them to take a step back at times. But in the end, the risk was worth the effort.
"Even though there were hiccups along the way, the feedback was discussed openly and candidly so we could meet the business objectives that we needed to meet," Kernohan says. "Once you go through all the growing pains as a partnership, doing the next one and the next one becomes very easy."
"We learned so much from this experience, and we can't wait to partner with Canada Post on future innovation projects," adds ICOM project manager Caroline Dupuis.
As the project progressed, the workflow became so smooth that Kernohan says moving forward with future variations using the same technology could only be described as "child's play." The overwhelmingly positive response from employees once they try the learning is an excellent reason for Canada Post and ICOM to take more innovation risks in the future. In fact, many Canada Post employees have even expressed interest in future learning initiatives — a clear sign of success.
Learners can perform a virtual walkaround of a Canada Post truck, clicking interactive targets to learn about specific components without the need to be in front of a physical truck.
"When people want more content, you want to provide that because it means you're doing something right," Kernohan says. "If you can change the reaction to learning so that people see it as an opportunity, it's a first step to changing the culture of information. It makes people feel curious rather than feeling like information is being forced. Then, you're changing the landscape of learning!"
Contact ICOM Productions to find out more about our 360-degree video tours and virtual reality programs.