Online Employee Onboarding Training
Onboarding is a universal process that is essential to every company's success. When done right, it makes a new employee feel welcome and sets them up for success. When done improperly, it can lead to frustration, lack of understanding around core job functions and high turnover.
The challenge is that companies are busy. Onboarding takes time, effort and dedication. It can be costly, time-consuming and, if it is done incorrectly, it can create inefficiencies that further disrupt business operations.
Online training is providing companies and organizations an easier, more efficient way to deliver world-class onboarding.
Whether employing an LMS system and developing internal content for corporate online onboarding internally – or outsourcing onboarding program creation – you can efficiently streamline training. This will ultimately save time, money, and drive revenue.
Using eLearning solutions for onboarding offers several advantages:
Minimizes the need for core staff to take time out of their schedules for one-on-one onboarding
Training can be done from anywhere at any time (no need for travel)
Online resources are always in place if a new employee needs a refresher
Multimedia format enhances interest vs. manuals and lectures
Consistent training and messaging
Demonstration videos, animations and illustrations are being used to enhance learning and engagement. Again, you simply create the content once instead of having to reinvent the wheel with each new hire. Additionally, virtual reality is gaining traction as a tool for simulating work environments in the online classroom, and replicating situations that would not be otherwise possible.
Online Employee Onboarding Training Applications
Safety Training & Compliance
When it comes to industries like Manufacturing and Construction, proper onboarding of new employees is of the utmost importance. Operating heavy machinery and working in hazardous environments offer unexpected and complex challenges on a day-to-day basis. Having the right training can save time, money and most importantly, save lives. With an LMS eLearning solution for employee or partner onboarding, companies can rest assured they are supplying their employees and partners with the most up-to-date, relevant and vetted training information available.
Online Channel Partner Onboarding and Training
Adding new partners is always an exciting time but introducing company concepts, processes and procedures can be challenging, particularly when partners may be outside your region or country.
With the right online platform, you can update partners, associates and other company executives on any and all information pertinent to the business. With online authoring tools for partners, newcomers can learn about you and your business from anywhere in the world.
HR Training
Whether it's explaining sick leave, benefit plans, time tracking, behavioural policies – you name it – eLearning solutions are ideally suited for covering the bases on human resources policies and procedures.
Software Training
Today, large and small corporations us a myriad of software applications and programs. For new employees, there is a need to get quickly up to speed. Online onboarding training solutions such as videos, slides and animations can be used to clearly explain the process by a software expert and 'champion' within your organization.
Process and Procedures Training
Manufacturers and distributor often need to quickly educate new hires on simple or complex processes that can require defined steps and actions. eLearning tools provide a solid framework for disseminating the detail-oriented training required.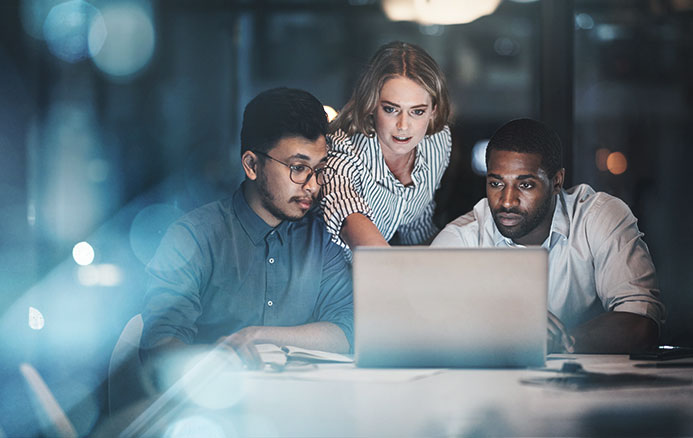 LMS Solution for Onboarding
Why Choose an LMS for Employee and Partner Training?
An Enterprise LMS software is perfect for employee and partner training as the world moves more into a digitally-driven realm. Employees and partners can come from all over the world and in today's modern society, travelling great distances or spending unnecessary funds for things that can be done quickly and efficiently online is simply a waste. A LMS software is a vehicle for learning and when employees and partners need expertly developed and delivered training programs, an LMS can offer unrivalled quality, quantity and support.
Corporate Solutions
Corporate LMS Solutions for Training: Partner Relationship Platforms (PRP)
Larger manufacturers will often seek a Partner Relationship Platform (PRP) that is designed to enable effective onboarding for channel partners (distributors, suppliers, consultants, agencies and more). By offering a single point of entry to access onboarding materials, participate in deal registration programs, and start training courses, PRP solutions are removing the headache associated with traditional onboarding and guiding the process forward into the new digital age.
Discover Performance Center® PRP
The ultimate manufacturing sector PRP for onboarding, managing and collaborating with channel partners. Regionally or around the globe.
Learn more
Sign up to receive monthly updates.